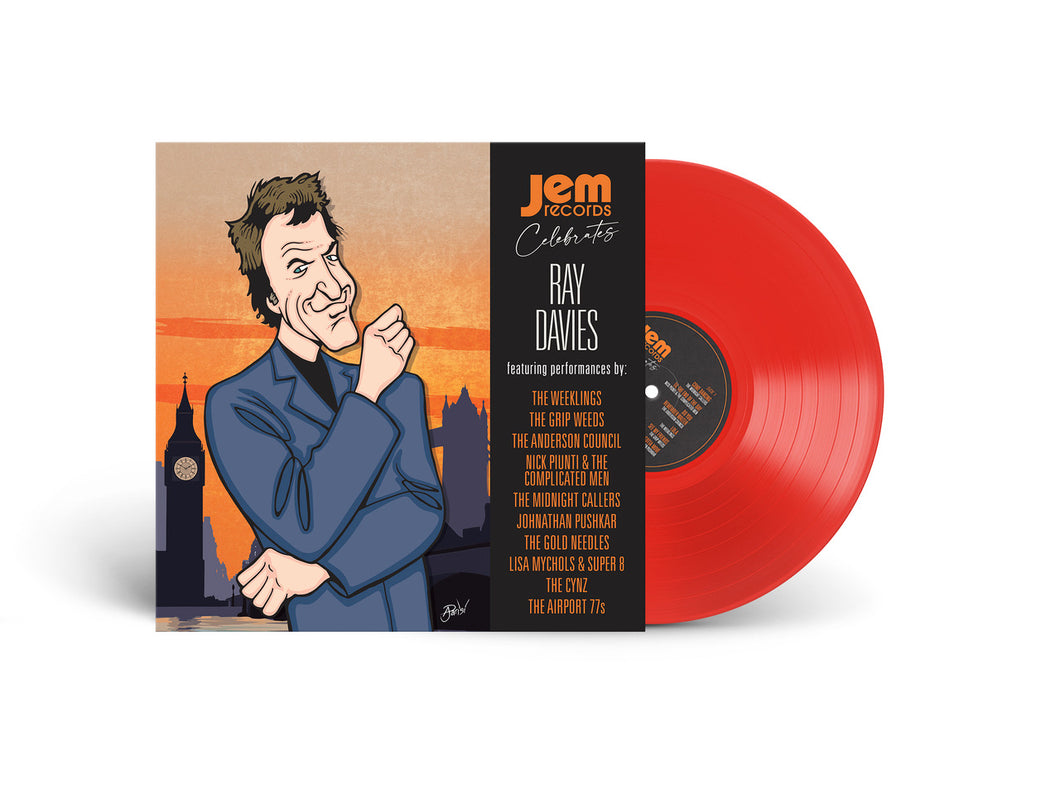 Jem Records Celebrates Ray Davies
Regular price $17.95 Sale
The Jem Records Celebrates series was born when JEM President Marty Scott wanted a way to celebrate the 80th birthday of John Lennon (October 9, 2020) with an album of his songs by JEM artists.
It was a unique way in today's world to have fans of one artist 'hear and get into' the music of other JEM artists.
It's how the label introduced The Midnight Callers– they had songs on JEM Records Celebrates John Lennon two weeks before their debut album was released.
The album was so well-received, it was decided to make it a series. Every August the label releases a new album by one of rock's greatest writers: John Lennon, Brian Wilson, Pete Townshend, and now Ray Davies. It is a tribute to their songs. We try to have our artists 'make it their own' with unique versions.
JEM Records Celebrates Ray Davies will be Released on August 11. Ray Davies, the British rock musician and composer is a great subject. A strong driving force behind The Kinks, he has written some of the most clever, sexy pop rock ever. Ray has released numerous albums and has earned the respect of his peers. In a People article, Michael Small quoted Pete Townshend as saying that when it came to lyrics, "In British rock Ray Davies is our only true and natural genius."
Word on the new release is getting out. Starting May 27th, disc jockey Chris Carter began to debut one song a week on his "British Invasion" show, which is broadcast on SiriusXM satellite radio's Underground Garage Channel 21, Saturdays from noon to 4 p.m. and Sundays from 4 to 8 p.m.
As excitement builds, some of the JEM stable shared reactions. Johnathan Pushkar said his single "I Gotta Move," is the first single release. Johnathan Pushkar said his single "I Gotta Move," is the first single release. It is a fast-paced rocker from deep in The Kinks' early catalog. In Johnathan's words, "I heard it on The Underground Garage and it quickly became one of my favorite Kinks' tracks. It is an early form of garage rock before such a genre was even coined, yet it feels fresh and timeless even today."
Martin Stubbs of The Midnight Callers said fellow bandmate Chris Paine suggested "Come Dancing", a later Kinks' hit with a synth-heavy dancehall vibe. "We saw a chance to drive it into a more guitar-forward realm. We love the swagger and sleaze of Glam Rock, so we converted the keyboard hook into a guitar riff, added our signature 'wall of harmonies' to the mix, and you've got the track!"
Peter Horvath of The Anderson Council will have Coolest Song in The World on The Underground Garage with "Do You Remember Walter". "All of the artists selected are such a big influence on our sound. We're always looking for an opportunity to make a track our own, or execute it in a different way than the original recording." Glen Burtnik of The Weeklings said that the band selected "Lola" because "People listen to songs they already know, so we went after one of The Kinks' biggest hits."
The Weeklings made it their own. "The sound of the initial guitar on The Kinks' original version always sounded like a dobro/resophonic style guitar (one of those metal guitars, the tone of which sounds tonally interesting). This gave me the idea to try adding a slide guitar and a banjo. It just developed from there." Glen Burtnik Glen said Ray Davies is a great writer and shared a memory. "I wish I had known I'd someday be involved in such a project the night I went to the White Horse Tavern (where Dylan Thomas famously drank himself to death) with Ray. (We managed to not drink ourselves to death)."
Dennis Diken of The Smithereens authored the CD liner notes and states, "Jem Celebrates presents loving renditions of 13 jewels".
Here is the running order:
"Come Dancing" (from 1983's State of Confusion)
The Midnight Callers "Till the End of the Day" (from 1965's The Kink Kontroversy)
Nick Piunti "Do You Remember Walter" (from 1968's The Kinks Are the Village Green Preservation Society)
The Anderson Council "Lola" (from 1970's Lola Versus Powerman and the Moneygoround, Part One)
The Weeklings "See My Friends" (1965 single)
The Grip Weeds "I Gotta Move" (1964 B-side)
Johnathan Pushkar "Where Have All the Good Times Gone" (from 1965's The Kink Kontroversy)
The Grip Weeds "Picture Book" (from 1968's The Kinks Are the Village Green Preservation Society)
The Airport 77s "I Need You" (1965 B-side)
The Cynz "Village Green Preservation Society" (from 1968's The Kinks Are the Village Green Preservation Society)
The Gold Needles "David Watts" (from 1967's Something Else)
Johnathan Pushkar "This Is Where I Belong" (1967 B-side)
The Anderson Council "Days" (1968 single)
Lisa Mychols & Super 8