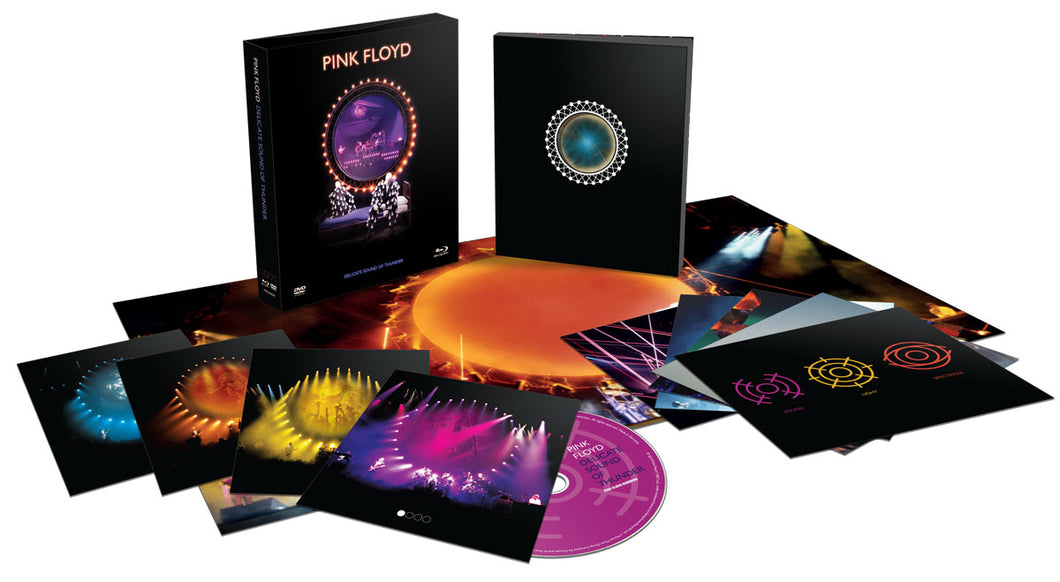 Pink Floyd The Delicate Sound of Thunder (2CD/DVD/BLU-RAY)
Regular price $89.98 Sale
Pink Floyd's Delicate Sound of Thunder live album and concert film was restored, remixed, and re-edited for the Later Years box set in 2019, but was made available separately, across all major physical formats a year later.
The sound on this 1988 release has been completely remixed from the original multi-track tapes by longtime Pink Floyd engineer Andy Jackson with Pink Floyd's David Gilmour, assisted by Damon Iddins.
The new 2CD and 3LP vinyl sets feature this remixed audio and offer more tracks than before: the vinyl triple-disc package offers nine more tracks than the original, while the new double-CD package features eight songs, not on the 1988 2CD set.
All editions feature 24-page photo booklets, but there is a four-disc deluxe edition comprising of 2CD+blu-ray+DVD which includes a 40-page booklet, tour poster, and postcards.

The concert film was restored and re-edited from the original 35mm film and enhanced with 5.1 surround sound and this is available as standalone Blu-ray and DVD packages. Full track listings and technical specs are below.
Pink Floyd's supporting musicians for this tour were as follows: Jon Carin (Keyboards, Vocals), Tim Renwick (Guitars, Vocals), Guy Pratt (Bass, Vocals), Gary Wallis (Percussion), Scott Page (Saxophones, Guitar), Margret Taylor (Backing Vocals), Rachel Fury (Backing Vocals) and Durga McBroom (Backing Vocals).


This set includes:
2-CD Blu-ray DVD Packaging: lift-off top box, 40-page booklet, perfect bound.
Tour Poster 4/4
5 x Postcards 4/1.
Length: 4 Hours, 36 Mins (141 Mins audio / 135 Mins AV) Plus 135 mins repeated on DVD.
Product details:

Format: CD/DVD/BLU-RAY
Product Dimensions: 6.1 x 5.2 x 1.2 inches; 11.2 Ounces
Original Release Date: 2020

Run time: 8 hours and 3 minutes
Date First Available:‎ February 19, 2020
Label: Sony Legacy
Country of Origin:‎ USA
Number of discs:‎ 4