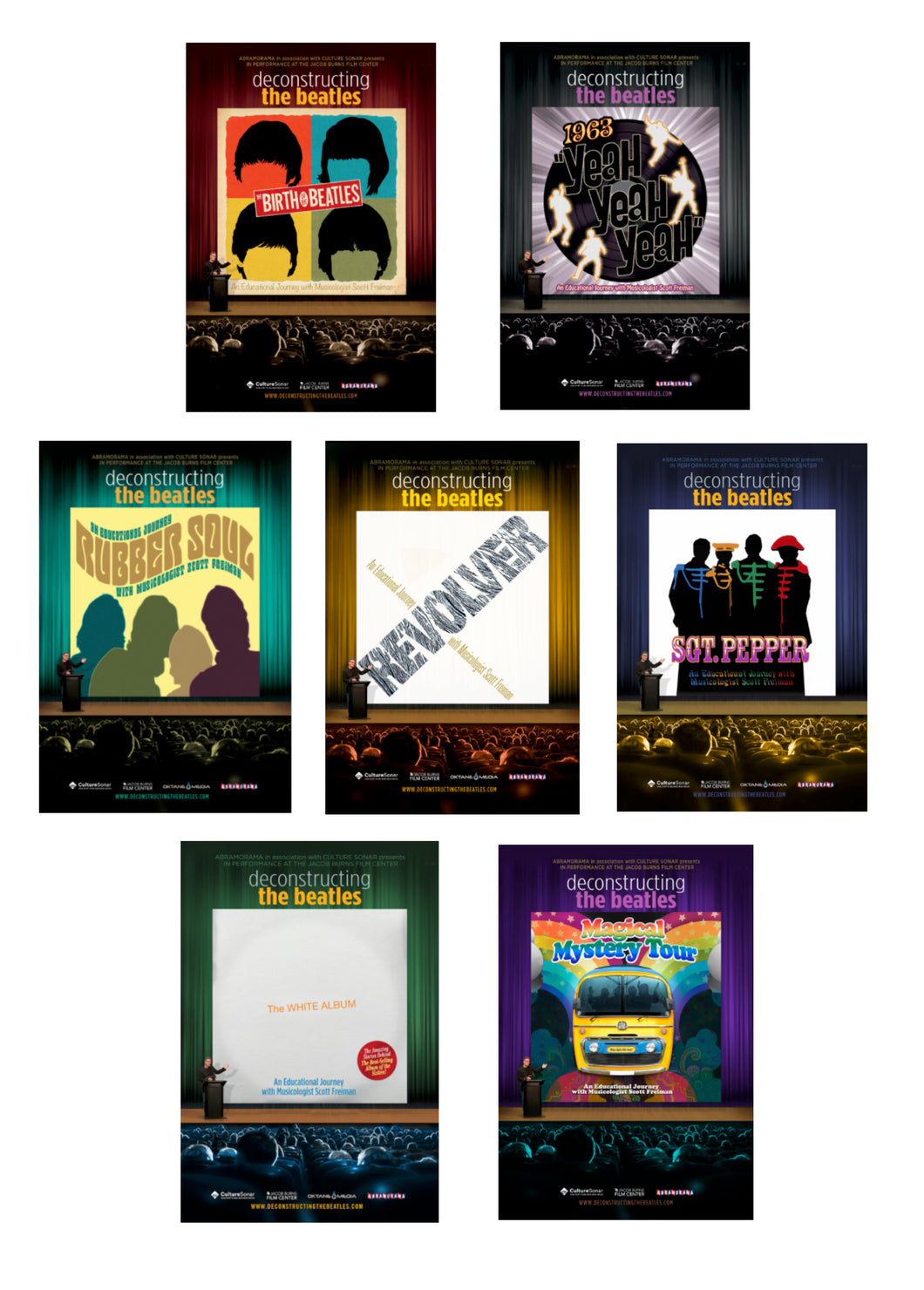 The Beatles Deep "Deconstructing" Dive: 7 Film Set
Regular price $93.40 Sale
If you really want to cover the Beatles' history, from their first stirrings in 1957, through The White Album in 1968, this is a great way to do it.
Get all seven of our "Deconstructing the Beatles" films in a single package -- and save 15% while you're at it. You'll receive "Deconstructions" of:
The Birth of the Beatles. From a garden party meeting in 1957 to the "toppermost of the poppermost" by the end of 1962, explore the band's remarkable Origin Story.
1963: Yeah, Yeah, Yeah: This was the year that defined the "mania." It began with their early sessions with George Martin and ended with worldwide acclaim. Follow each frenzied step.
Rubber Soul. Make a masterpiece, from scratch, in thirty days? No problem! This is a really entertaining race against the clock.
Revolver. Many music polls list Revolver as the top album of all time, with good reason. Dig into this extremely-fertile creative process.
Sgt. Pepper. For a band that wasn't sure it was even a band anymore (having recently stopped touring), The Beatles hit another creative peak here. 
Magical Mystery Tour. Failed film. Incredible album. That vastly oversimplifies a complex story, as you'll see...
The White Album. After the studio wizardry of Sgt. Pepper, the band wanted to get back to basics. The approach may have been simpler, but the breadth of styles -- from music hall to metal -- is dazzling. 
In thoroughly engaging (and often surprising) ways, acclaimed "Beatle-ologist" Scott Freiman guides you, step by step, on an educational journey through each story and each album. These are the same presentations that have captivated audiences nationwide, from NYC to Silicon Valley.
Each film is roughly 90 minutes long.
Choose DVD or Streaming from the "DVD or Streaming?" menu next to the "Add to Cart" button. When you buy the DVDs, you get the streaming FREE. Our treat.
(Separately, the DVDs would be $109.85, but get them here for $93.40. Similarly, the streaming versions would cost $69.60 individually, but are $59.20 here.)
If you choose the DVDs, your package will include three items: The 2-DVD "Early Beatles" set; the 4-DVD set covering Rubber Soul through The White Album; and the single Magical Mystery Tour disc.
You'll also get a free copy of our eBook: There's Nothing Left to Say About The Beatles: Vol 1. It's a collection of our 50 most popular blog articles on the Fabs. We think you'll enjoy it.
A splendid time is guaranteed for all!
No, really. If you don't like it, we'll give you a full refund.
______________________________________________________
"Deconstructing The Beatles" is a multimedia lecture series conceived and delivered by Scott Freiman
© 2019 Deconstructing the Music, LLC. All rights reserved.
Legal services provided by Donaldson + Callif, LLP
Artwork by Arnie Sawyer: Sawyer Entertainment