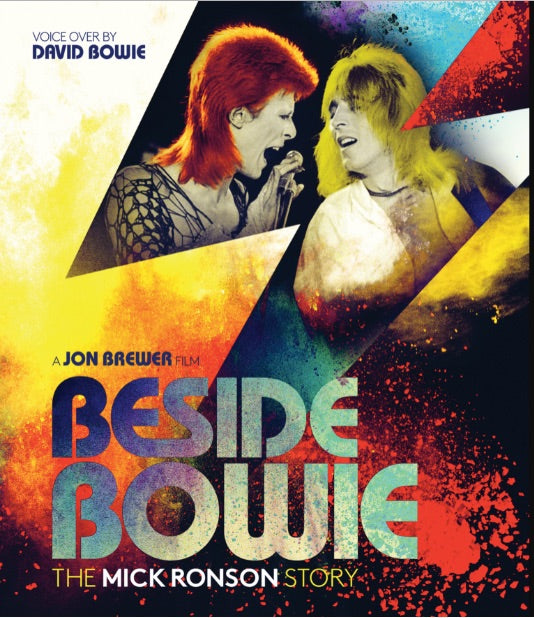 Beside Bowie: The Mick Ronson Story (DVD/Bluray)
Regular price $29.95 $17.49 Sale
"An illuminating film about a man who deserved more shine" —LA Times 
David Bowie himself narrates this celebration of the life and works of guitar virtuoso Mick Ronson.
This remarkable documentary is an overdue, unprecedented celebration of the life and works a rock hero virtually unknown despite his direct contribution and involvement in countless compositions, lyrics and recordings that changed the face of music forever.
His humble beginnings in Hull, England underpinned the values and modest, unpretentious personality of Mick Ronson, who worked with the city's council while he pursued his craft with consummate dedication. Soon word of his talent reached David Bowie, who grabbed at the chance to work with Ronson, in what would become a career-long association, alongside collaborations with other greats such as Bob Dylan, Ian Hunter, Lulu and Lou Reed. The Man Who Sold the World, Aladdin Sane, Hunky Dory, The Jean Genie - all were constructed with Ronson on guitar.
Sadly in 1993, while working on a solo album, Ronson passed away before receiving the recognition he so richly deserved or before taking that final bow. Now, with unprecedented access to archival backstage footage - never before released - and iconic imagery from superstar photographer Mick Rock, this fascinating and at times controversial special reveals the ultimate authentic chronicle of the career of a cornerstone of rock.

Here's the trailer:
Bonus features include interview footage from Angie Bowie, Rick Wakeman, Glen Matlock, Cherry Vanilla, Ian Hunter, David Stopps and more. The set includes two discs: one Blu-ray and one DVD.
If you're a serious music fan, you owe it to yourself to add this to your collection!