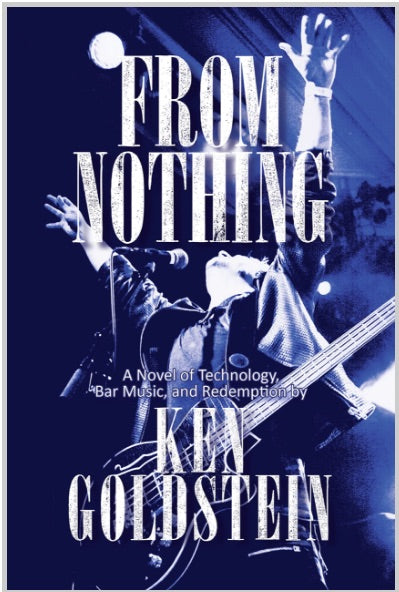 "From Nothing": A Novel of Technology, Bar Music, and Redemption
"From the boardroom to the bandstand, Ken Goldstein's "From Nothing" doesn't miss a beat, taking readers on a wildly unpredictable but wholly believable tale of 21st century rock n' roll soul redemption. Crackling dialog, tantalizing peeks into the cutthroat world of Silicon Valley, and vibrant scenes of unvanquished rock 'n' roll dreamers make From Nothing a must-read."
         – Robert Burke Warren, musician, author of "Perfectly Broken"
______________________
Victor Selo had blown up his life. A wannabe rock star turned tech savant, he'd wagered his Silicon Valley executive position on a corporate inside straight and lost. Having security escort him out of the building was the best thing that happened to him that day. The rest left him in the hospital, broken, broke, and with no prospects.
That's when a shadowy stranger with questionable motives came with an offer: a chance to get his life back – and better – if he simply cooperates. It would require becoming invisible for a while, but he would be hiding in the spotlight, playing guitar in a Vegas cover band. Reluctantly, Victor accepts and begins an odyssey he never could have imagined. One that involves a charismatic lead singer who owns the stage but aspires to own an Elvis wedding chapel, a mesmerizing woman who can play anything on her keyboards and can really play with Victor's head, and two specters from his old life offering competing devil's bargains. Suddenly, multiple futures are opening up in front of Victor. All of them offer opportunity – and each comes with potentially catastrophic risk.
Populated with a wide array of colorful characters, brimming with reflections on everything from love to God to the price of commitment, and backed by a great soundtrack, From Nothing is an endlessly engaging work of fiction that will resonate like your favorite song.
Ken has given us 10 copies to give away (you'll pay only the shipping cost). First come, first served. Claim yours today!