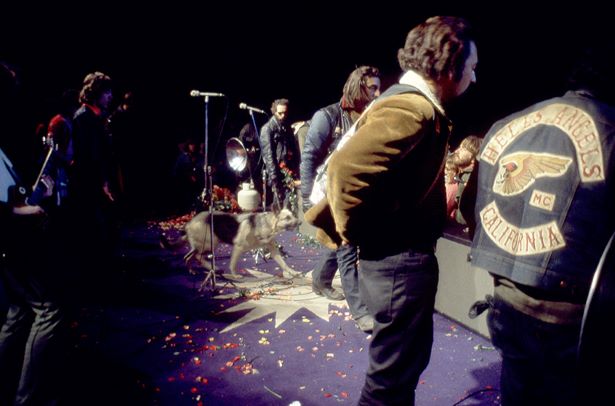 The Rolling Stones Mick Jagger & Hells Angels in Altamont 1969 Photo Print
Regular price $49.95 $39.95 Sale
LIVERMORE, CA - DECEMBER 6: English singer, songwriter, actor, and film producer Mick Jagger of the English rock band The Rolling Stones looks at a dog as Hell's Angels guard the stage during the Altamont Speedway Free Festival, which was a counterculture rock concert held on Saturday, December 6, 1969, at the Altamont Speedway in Livermore, California. (Photo by Jeff Hochberg/Rock Negatives)

The Rolling Stones and Hells Angels together at the Altamont Festival, 1969. This image is part of two rolls of film, newly discovered from Altamont that have been sitting unseen for the last 52 years. These images are fascinating for a number of reasons:

There are very few images that exist of both the Stones and the Hells Angels together at Altamont.
Even fewer are quality, color images.
These were taken from the stage by a guest of the band.
In a few of the frames, you can see the Angels pulling Meredith Hunter's body onto the stage, just after stabbing him and just before he dies, while Jagger covers his mouth and Taylor is riffing on his Les Paul seemingly oblivious.
Here are a few things you should know:
- Framed versions will have a black wood frame with a white mat.
- Satisfaction guaranteed. If you don't love your print, just return it for a full refund.