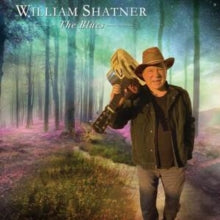 The Blues by William Shatner Vinyl [LP]
Regular price $26.98 Sale
THE BLUES by William Shatner
Legendary star of the stage and screen, William Shatner, brings his dramatic interpretive talents to the blues music canon on this superb new album!
Features guest appearances by other blues artists including, Kirk Fletcher, Sonny Landreth, Canned Heat, and Tyler Bryant plus country superstar Brad Paisley, Deep Purple's Ritchie Blackmore, and many more.
Features "Let's Work Together" (featuring Canned Heat) and "I Put A Spell On You" (featuring Pat Travers).


FORMAT: LP Vinyl
LABEL: CLEOPATRA
GENRE: Blues
NO OF DISCS: 1
RELEASE DATE: 10/2/2020
*Ships to the US and Canada Only.